Couples Counselor in Mesa, Arizona
Valerie Alston-Southwick, LPC, specializes in helping couples repair their relationship.  She has advanced training in Emotionally Focused Therapy, EFT, which research has shown to be highly effective in helping couples strengthen their relationship and stay together.
She also has training in and uses a type of therapy called EMDR to help individuals overcome trauma.
Valerie has also done training sponsored by the American Association of Sex Addiction Therapy, AASAT, for sex addiction, pornography and affair recovery.
Valerie's specialized training in attachment therapy, EFT, which has been proven successful for over 75% of couples as supported by clinical research with over 90% of couples reporting improvement in fewer sessions can help you. Whether you are looking to:
Strengthen or rebuild existing relationships by repairing and reconnecting with whomever matters the most in your life.
Find and create new lasting healthy relationships.
Connection is the most basic human need. Our survival is dependent on whether or not we have someone we can turn to when we are most vulnerable.  Individually we experience disconnection in a variety of ways such as:
Conflict in our significant relationships
Death of a loved one
Divorce or break-ups
Betrayal
Loneliness and isolation from others
When we experience the prolonged pain of disconnection it often leads to symptoms of depression and anxiety. Sometimes to numb out from this pain we develop unhealthy coping strategies such as addictive behaviors, eating disorders, compulsive behaviors, etc.
Valerie's mission is to guide you through your own journey of growth and healing while developing satisfying personal relationships.
Relationships and Interpersonal Skills
Do you love your partner but struggle with intimacy? You are not alone. You may have questions such as:
How can we facilitate better physical and emotional connection?
Can our marriage recover from an affair? or Can we make it affair proof?
Or even How do we talk to our kids about sex?
Valerie can help you address issues ranging from decreased libido and inhibitions about sexuality to sexual addiction, pornography and infidelity in a safe and supportive environment.
Does your relationship get stuck in the "content" loop of communication rather than addressing the deeper underlying unmet needs?
Often what looks like pushing or pulling away from your partner is almost always a misguided attempt at connection. Valerie can help you filter your experiences good or bad through a lens of attachment.
Trauma and Life Stressors
Trauma is a normal experience of life. Depending on how we experience that trauma it can feel like either a straightjacket, paralyzing us with fear, or a doorway, leading to growth and freedom. Stressors can also come in a variety of forms including the challenges associated with major life transitions:
young adults: career & education, autonomy, missions, relationships
Loss and grieving: guilt, emptiness, fear, reaching out & setting boundaries, coping skills, hope
divorce and separation: children, boundaries, healing, dating again
blended families: children, step-children, step-parenting, boundaries, the exes, the marriage
retirement: changing bodies, changing roles, changing expectations, caring for an aging parent
Valerie offers a variety of therapies including EMDR, a technique which allows the brain to reprogram painful events. She is currently Level II EMDR trained and supervised. She also utilizes art, music, mindfulness and some SE methods.
Areas of Specialty Include:
Attachment/EFT
Addiction & Compulsive Behaviors *
Sexual Issues & Intimacy *
Pornography
Betrayal & Affairs
Couples Counseling *
Pre-Marital Therapy
Parent-Child & Family Relationships
Divorce and Co-Parenting *
Self-Esteem & Self-Awareness
Eating Disorder & Body Image
Healthy Boundaries
Anger Management
Grief and Loss
EMDR
Trauma/PTSD *
Anxiety & Depression
Life Transitions
*Indicates an area of Top Specialty
Rates for Counseling Services
Valerie does not accept insurance. She can provide a superbill for you to submit to your insurance. The following are the rates she charges for therapy services.
50-Minute Individual Therapy Session = $100
50-Minute Couple or Family Session = $125
10 Session Package = $900 for Individual or $1100 for Couples or Family Session
Workshops, Groups and Presentations
Valerie has presented at a variety of Community Service Events such as the annual Foundation for Healthy Living, Men's and Women's Resource Groups for sex addiction, partner support and DBT skills groups, also Dr. Sue Johnson's world renown Relationship Workshops, Hold Me Tight, and Brene Brown's world renown program Connections for conquering shame with empathy and authentic living. Dates, rates and times and availability are provided upon request.
Client Feedback
"I honestly followed Valerie from another practice and I keep coming back because of how she helps me through my problems and conflicts that arise in my life. I enjoy talking with Valerie, she has lots of knowledge and wisdom, and she helps me to feel important."
– Steve from Mesa
"My experience with Valerie has been extremely fulfilling and life changing. I have felt very safe in every session. I would recommend her services."
– Wendi from Mesa
Scheduling a Counseling Session
To schedule a counseling session click on the booknow button to the right or call 480-744-5864.  Valerie will ask a few questions to find out if she may be able to help with your situation or she will refer you to a someone who may be more suited to your needs.
Counseling Forms
The following three forms are required to begin treatment.  Please print out all three forms and fill in the information prior to the first session.
Contact
Phone: 480-744-5864
Email: Valerie@AZConnectionCounseling.com
Location for Services
Therapy will be provided at the following location:
3048 E. Baseline Rd, Suite 108,
MAP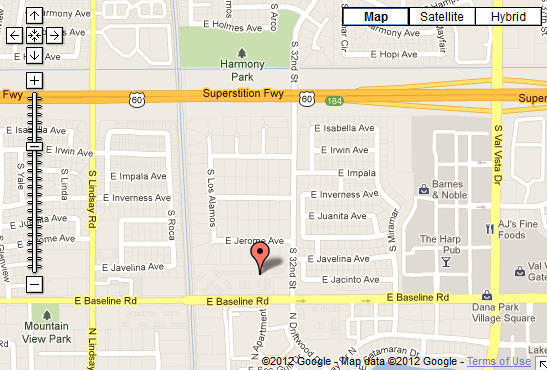 Individual and Marriage Counseling is provided to individuals who live in the following areas in Arizona:
Gilbert, AZ
Queen Creek, AZ
Apache Junction, AZ
San Tan Valley, AZ
Johnson Ranch, AZ
Mesa, AZ
Tempe, AZ
Chandler, AZ
Ahwatukee, AZ
Phoenix, AZ
Scottsdale, AZ
Zip Codes
85140 85240 85201
85202 85203 85204
85205 85206 85207
85210 85211 85213
85215 85275 85233
85242 85212 85225
85234 85295 85296
85297 85298 85299
85242 85142 85209