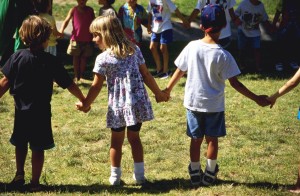 After attending the Love and Logic Parenting course in Mesa, Arizona, one of the mothers shared an experience she had at day care pick up.  She reported the following:
I have been having a horrible time trying to get all of my kids and foster kids from day care.  As soon as I grab one, another takes off.  Then, when I leave the group to chase after the one that took off, the others seem to scatter.  Every day was the same difficult experience.
After hearing your story about having kids practice the behaviors you would like to see them do, I was excited to try this new technique out at their day care.  The next time I went to pick them up, they began with their usual behaviors.  However, this time I had a new strategy – The Practicing Technique.  I told them they needed to be by my side so that we could walk to the car together.  They ignored my request as usual and scattered just the same.  But rather than getting mad at them, I just told them, "This is sad.  I guess we'll have to practice when we get home."
When we got home, before we went into the house, I had all of my kids practice walking back and forth from the front door of the house to the car, over and over again.  After about 5 or 6 times, their little bodies seemed to have learned this new skill of appropriately and safely walking beside mom to the car.
This mother reported a decrease in her stress level and an increase in her ability to enjoy her kids more.  Parents who take the Love and Logic courses usually report similar findings that once they learn how to set and enforce limits effectively, they have more time and energy to really enjoy their kids rather than fretting over what to do about their kids.
Thanks for reading.

Shiloh Lundahl, is a bilingual therapist (Spanish) who specializes in working with children, teenagers, and families.  Shiloh provides in-home therapy and has found it to be a very effective form of therapy especially when working with children and families.  Shiloh has specialized training in working with children ages birth through six-years-old and their families but he has also spent several years working with at-risk teens.  Shiloh teaching parenting classes in Mesa, Arizona.  (Click to See Full Profile).