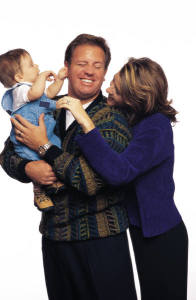 Though many families and individuals have already chosen to step up to the plate and take on the challenge of providing a nurturing and secure environment for children placed in the foster care system, the fact remains that child welfare agencies are consistently overwhelmed with thousands more children who have yet to find a place to call home. Whether you've considered becoming a foster parent but are still on the fence about it or have never given it a thought until right this second, there are many misconceptions regarding foster care that should be cleared up before you make your final decision. Preconceived notions have deterred enough potential foster parents from applying to be part of the foster care process, and it's time that the myths are turned into truths.
Myth #1: You Must Be Married and Wealthy to Become a Foster Parent
While there are standards that are set when looking for foster parents, marital and an affluent financial status are not among them. The priority is finding caring, stable homes, and those come from a variety of backgrounds – single, married, middle-class, upper-class, etc. The requirement is that you are financially secure and able to provide for yourself and other members of your family outside of the monetary support granted for the foster child. You may be a homeowner or a renter, but either way, you must have sufficient space for any children you take in.
Myth #2: All Foster Children Have Behavioral Problems or Special Needs
Children are ultimately placed in foster care for reasons that have nothing to do with them and everything to do with the unfortunate situations of abuse, abandonment or neglect that their birth families put them through. Though this can lead to behavior issues, not all foster children should be judged or deprived of a loving home where they may find the opportunity to change those behaviors. Special needs is a term that usually brings to mind someone with mental or physical handicaps, and while there are some children fitting this description, it can also simply refer to an older child, children that are part of a sibling group or one of a certain ethnic or racial background.
Myth #3: Being a Foster Parent Can Serve as Extra Income
Foster parenting should never be counted on to take the place of an actual job or even serve as supplemental income. If it's all about the money for you then you've come to the wrong place. The state will help foster families by providing a specified amount to take care of the basic needs of the child, make sure medical costs are covered and assist with child care expenses for working parents, but anything spent outside of that will come out of a foster parent's own pocket. It's not uncommon to spend more on a child then the allotted amount.
Myth #4: Foster Parents Are Responsible For the Child's Outcome
Foster parents often want to "fix" every child that comes into their home, however, what they really need is someone to show support and understanding and be an example of what a healthy adult should look like. The objective of the foster care system is to reunite children with their birth families whenever possible, so going into a foster parenting situation you must understand that whatever the outcome is, it's out of your control.
Myth #5: You Don't Have a Say in the Child That Gets Placed in Your Home
Foster parents are definitely able to choose their own terms when it comes to how many children and who they will accept in their home at the time of licensing. All the information about a child is given up front, and foster parents are given the chance to agree or decline. It's important for it to be the right fit for everyone involved.
After all the misconceptions about foster care have been straightened out for you, you're sure to find that there's no experience more rewarding than making a difference in the life of a child.
About the Author
Tiffany Olson resides in beautiful Northern California and greatly enjoys blogging about topics that will help or enhance families and children. In her off time she loves to travel, cook, and read.